Creating agents
New agents are created using the create tool. Select the create tool from the toolbar or from the pop-up menu which appears when you right-click the mouse.

Position the cursor where you would like to create the agent and click the mouse. A window is displayed which allows you to choose the type of agent you wish to create from a list containing all the available types of agent. You can also choose the number of the agent if you wish, although this will be automatically chosen for you. For example if you already have Drummer 1 in your setup, the number box will show 2. When you have chosen the agent and number, click ok.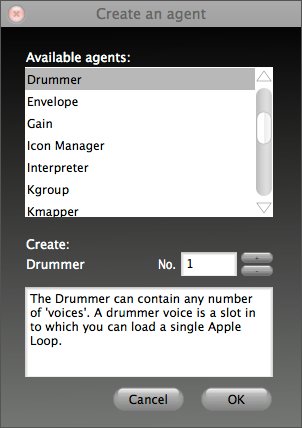 The create window disappears and an agent box appears on the canvas.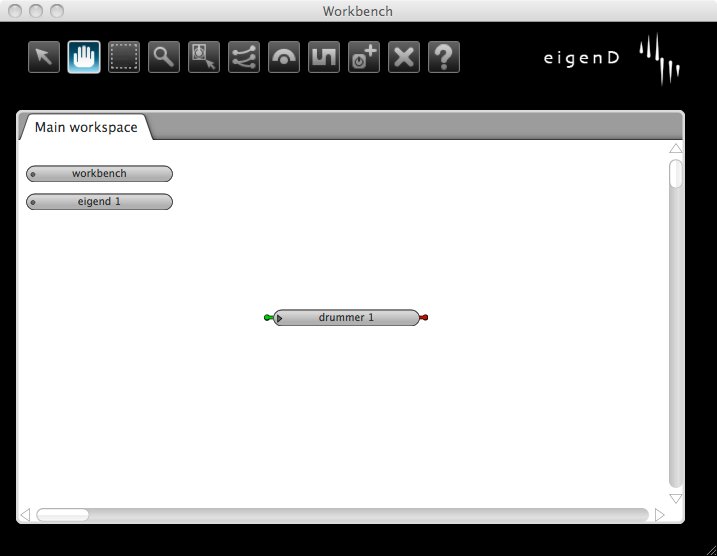 An agent is initially displayed in a contracted state. Clicking on the triangle at the left hand end of the agent box expands the agent box to show its ports.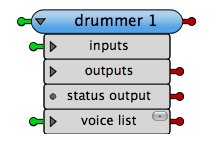 In many agents these ports can also be expanded to show further details.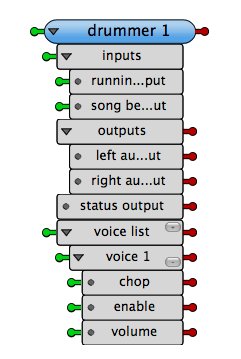 Creating new ports
Some agents, for instance kgroups and drummers, do not simply have a fixed number of ports, but have special ports which you can create and delete as required. For example, the drummer agent has a port called "voice list" which is displayed with a button in the top right hand corner.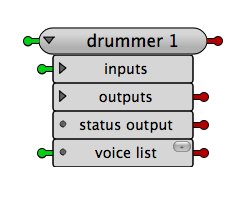 Clicking this button (or clicking on the "voice list" port with the create tool) creates a new "voice" port.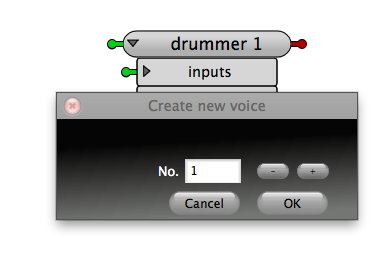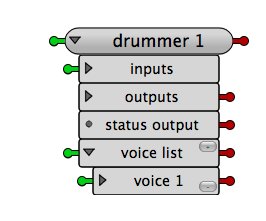 Ports which you create in this way are displayed with a button in the bottom right corner which can be used to delete them. It is also possible to use the delete tool.
Removing agents
Removing an agent from a setup is a simple matter of selecting the Delete tool,

moving the cursor over the agent you wish to remove and clicking the mouse. By default a confirmation dialog is displayed asking if you wish to delete the agent. This dialog can be disabled.